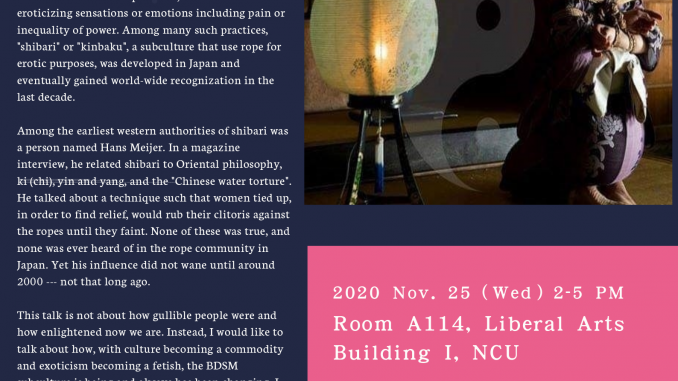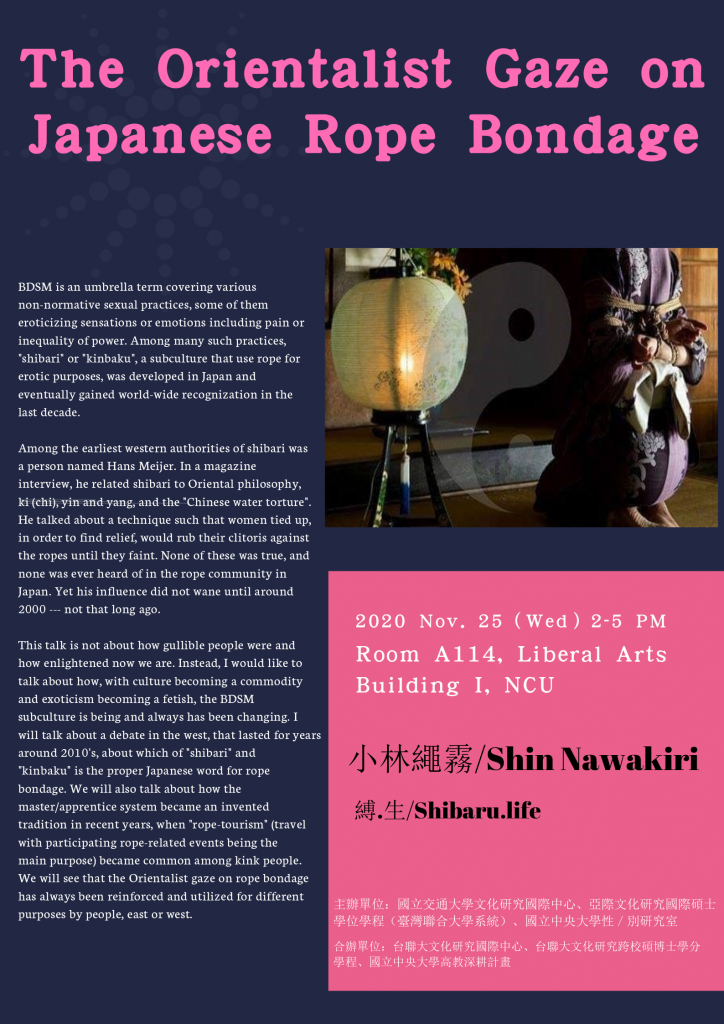 Title:The Orientalist Gaze on Japanese Rope Bondage
Shin Nawakiri/Shibaru.life
(小林繩霧/縛.生)

2020 Nov. 25(Wed)2-5 PM
Room A114, Liberal Arts Building I, NCU
演講摘要:
BDSM is an umbrella term covering various non-normative sexual practices, some of them eroticizing sensations or emotions including pain or inequality of power. Among many such practices, "shibari" or "kinbaku", a subculture that use rope for erotic purposes, was developed in Japan and eventually gained world-wide recognization in the last decade.
Among the earliest western authorities of shibari was a person named Hans Meijer. In a magazine interview, he related shibari to Oriental philosophy, ki (chi), yin and yang, and the "Chinese water torture". He talked about a technique such that women tied up, in order to find relief, would rub their clitoris against the ropes until they faint. None of these was true, and none was ever heard of in the rope community in Japan. Yet his influence did not wane until around 2000 — not that long ago.
This talk is not about how gullible people were and how enlightened now we are. Instead, I would like to talk about how, with culture becoming a commodity and exoticism becoming a fetish, the BDSM subculture is being and always has been changing. I will talk about a debate in the west, that lasted for years around 2010's, about which of "shibari" and "kinbaku" is the proper Japanese word for rope bondage. We will also talk about how the master/apprentice system became an invented tradition in recent years, when "rope-tourism" (travel with participating rope-related events being the main purpose) became common among kink people. We will see that the Orientalist gaze on rope bondage has always been reinforced and utilized for different purposes by people, east or west.
現場照片